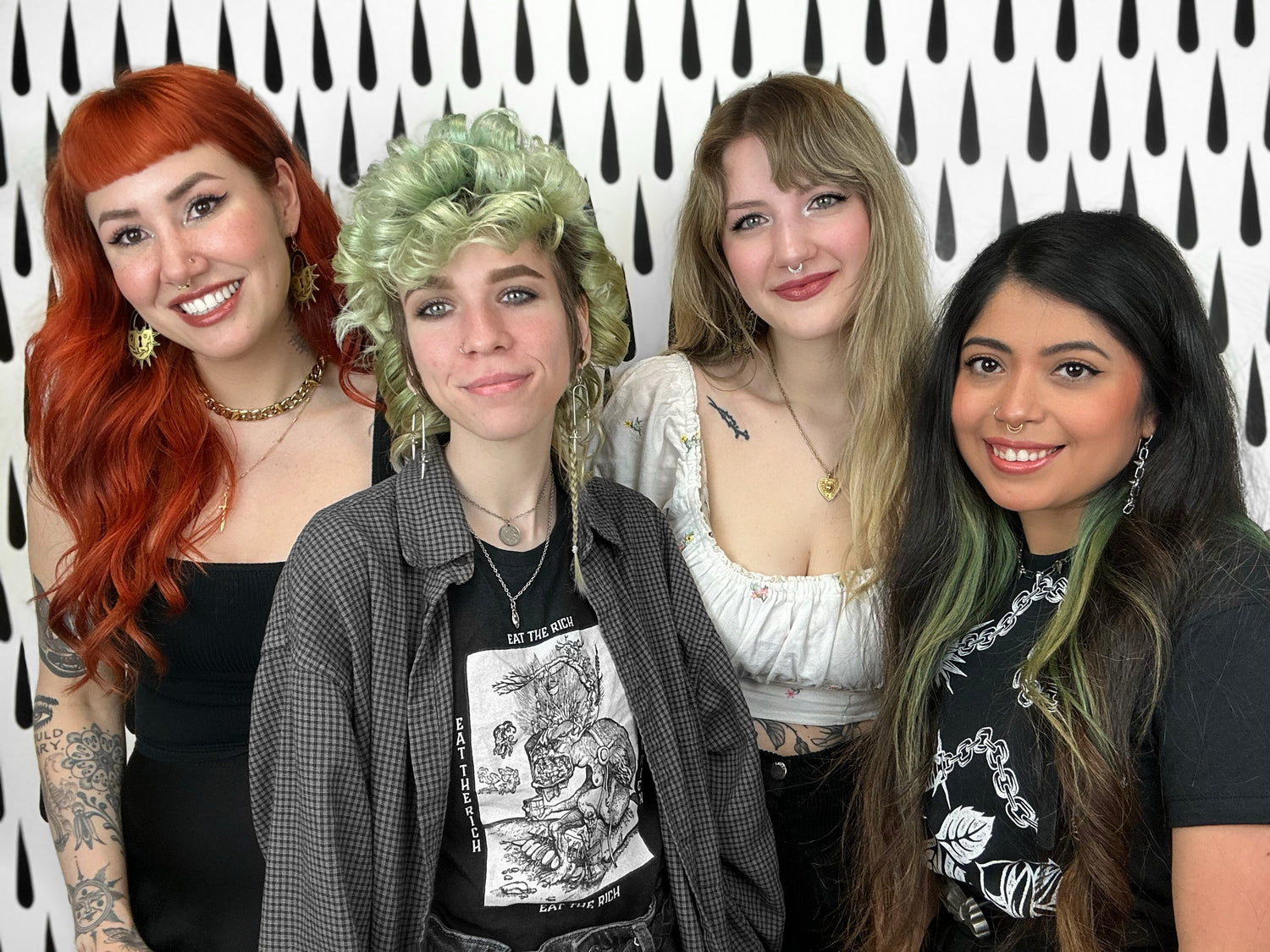 Hello from the team!
Hello from the team!
You may not realize this but WOS is only made up of 4 team members (myself included!). Despite being a small team, we dream big and are very passionate about what we do. We operate as a close-knit group,  relying on each other to bring our visions to life. We're not afraid to take risks and have fun while we do it! Ideas are tested, challenged, tossed around, embraced and released with heart (and lots of laughter). Everything we are able to offer is a result of our team's dedication, hard work, and commitment to quality.
Meet the team
Lauren Lester

Designer & founder

Lauren Lester is the creator of While Odin Sleeps. She grew up in a military family with five siblings and moved frequently, which developed her adaptability and resourcefulness. In 2005, Lauren moved to San Francisco to attend FIDM, and it was there that she explored her love of art, fashion, and design.She started making jewelry in her tiny apartment as a creative outlet and to avoid a 9-5. After 10 years in SF Lauren fell in love, which led her to the Appalachian Mountains in North Carolina where she (and WOS) currently resides.Her dream is to one day open a storefront to support and showcase other small businesses while expanding her team. We can't wait to see what's next for While Odin Sleeps! Of course you can follow @whileodinsleeps on instagram to keep up with all our new releases, but you can also follow Lauren's personal account @laurenannlester to follow her adventures and see pics of her very cute pups

Sheila Sarti

Creative assistant & project manager

Sheila is a talented artist originally from Florence, Italy, who has been living in North Carolina for the past 9 years. She's been drawing all her life, focusing her own art around themes of femininity and vulnerability. Sheila works closely alongside Lauren, brainstorming and helping bring creative ideas to life while ensuring that the creative process runs smoothly. Sheila has been with us since our early days! We are proud to have her on our team and grateful for her invaluable contributions to our growth. Follow Sheila's whimsical artistry on Instagram at @sheilasarti

Brigitte Agreda

Admin Assistant & Head of Packaging

Brigitte Agreda was born in California but has spent most of her life in North Carolina. She takes great pride in her Peruvian heritage and loves to cook dishes that are native to her country. Brigitte loves antiquing, spending time with her friends and relaxing at home with her boyfriend and their three pets. Over her three years at While Odin Sleeps, Brigitte has worked her way up to the role of Admin Assistant! She is the friendly voice that greets you when you email us, and the careful hand that packages your order with love. We are incredibly fortunate to have Brigitte's dedication and expertise as a vital part of our team! Find her on Instagram at @brigitteagreda

Elle McKay

Head of assembly & quality control

Elle McKay is a talented creative who aspires to one day become a tattoo artist. Their work reflects a unique blend of life and death, showcasing the beauty that can be found on both sides. In their free time, Elle enjoys hiking, music, and spending time with their beloved birds. As a crucial member of our team, Elle pours their heart into everything they do with unparalleled attention to detail. If you've bought something from us, it's very likely that Elle was the person who assembled it! We couldn't be more grateful to have Elle on our team! Follow their creative endeavors on Instagram at @elle.mckay and @fern.sprouts.illustrations

Meet Jinkx, our adorable lab mix who was named after Lauren's favorite drag queen, Jinkx Monsoon! In the office he is known for going from person to person to let them know how good of a job they're doing, for which he gets lots of treats and kisses. He takes his job very seriously and is adored by the whole team.

Meet Waylon, our resident Blue Tick Hound! He may not be the most productive employee, but he's definitely the most vocal. He's always on the lookout for intruders (aka, squirrels) which means that thanks to him the rest of the team can feel well protected. What would we do without him?
OUR VALUES
ASSEMBLED BY HAND

From the very start all the jewelry at WOS has been lovingly assembled and packaged by hand, and that is still true today.

Our metal is cut and coated locally and each piece is hand polished, tumbled, assembled and packaged in house with lots of care and attention to detail.

We truly love what we do, and each member of our team is dedicated to creating pieces that you will love and cherish.

SLOW FASHION

We all know how harmful fast fashion is. Trendy and cheap items are produced much too quickly, leading to Environmental degradation, labor exploitation, and social injustice. Of course we understand not everyone can be free of fast fashion, but we prioritize ethical practices in our production in hopes to offer slow fashion products without breaking the bank. Your purchase also directly allows me to not only hire local creatives, but pay them a living wage.

AUTHENTICITY BEFORE TRENDS

I strongly believe that jewelry should be a reflection of one's personal style and not just the cheap embodiment of a fleeting trend. We love that our customers are eclectic, independent-minded people who prioritize creativity and authenticity in their everyday lives-that's why our mission is to create original and distinctive pieces that can make them feel inspired and empowered.

MADE WITH INTENTION

At our core, we are artists that strive for authenticity and quality above all else. From the selection of our materials to the design and creation process, we put our heart and soul into every step we take. Whether it's a special gift for a loved one or a piece that you wear every day, I believe that jewelry should hold significance. By putting so much intention into each piece, I aim to create something that is not only beautiful but also tells a story and connects with the wearer on a deeper level.

INDEPENDENTLY OWNED

As an independently owned company, we are free to prioritize our values and the needs of our community over external pressures or expectations from investors and shareholders. We take pride in our ability to operate with authenticity and integrity, making sure WOS remains an art-first brand, always. We're committed to building meaningful relationships with our customers and peers that go beyond just selling products or giving in to the man!

FEMMES & THEY/THEMS

Our team is entirely made up of lovely individuals who identify as female or non-binary, and representative of diverse cultural backgrounds. We value the unique perspectives and experiences that each team member brings, and strive to create a welcoming and inclusive environment for all. We believe that diversity and inclusivity are essential to creating a positive and supportive workplace.

FOUNDED IN SAN FRANCISCO

WOS began in 2011 in my tiny San Francisco apartment as a creative outlet and a way to have financial freedom. What originally started as a DIY project has since evolved, and I've evolved with it. I've faced many challenges, mistakes and setbacks, often having to learn things the hard way. This spirit of perseverance is now ingrained in our work ethos and is part of everything we do. We take pride in our ability to learn and adapt quickly because it forces us to continuously improve our craft, this mentality has helped us create a business that prioritized independence and integrity. It's been an amazing journey since 2011, and I'm grateful for everyone who's been a part of it.

BASED IN NORTH CAROLINA

After meeting the love of my life, I moved to North Carolina in 2016. Amongst the beauty of nature and the Appalachian Mountains, WOS was able to take root, flourish, and even withstand a global pandemic. For years I was operating my business out of cramped quarters and borrowed spaces. However, in the past couple of years, I was finally able to get the studio space I had only ever dreamed of, with ample room for our team, materials, and even some extra space to accommodate our dreams of future growth.